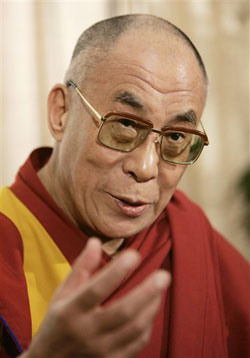 Thosum Gephelling Institute is devoted to Buddhist teachings and practices in the Mahayana tradition, and charitable outreach work and activities that support the goal expressed often by His Holiness the 14th Dalai Lama as " Just be a good person."
The Tibetan name "Thosum Gephelling" means, a place to learn to increase and expand one's virtue, and everyone is welcomed at Thosum Gephelling Institute in this noble pursuit.
TGI is dedicated to helping all beings attain wisdom, compassion and happiness through spiritual practice and development in the tradition of the Gelugpa School of Tibetan Buddhism founded by Lama Je Tsongkhapa,  the lineage of His Holiness the XIVth Dalai Lama, Tenzin Gyatso. The Spiritual Director of Thosum Gephelling Institute, Geshe Ngawang Singey, received his novice and full monastic vows from His Holiness, a Sera Je Monastic University.
WHAT'S CURRENT

Geshe Ngawang Singey is teaching on Shantideva's, "A Bodhisattva's Way of Life."  Geshe-la teaches approximately 2 Sundays a month with Tibetan to English translation done by Tenzin Rabye. On alternating Sundays usually Geshe Ngawang teaches in English and holds Q&A sessions OR special guest teachers give dharma talks on specific topics. The weekly details are sent via e-mail.

2 Hour DVD AVAILABLE of VEN. ROBINA COURTIN'S TEACHING at TGI…  Renowned Tibetan Buddhist nun, Ven. Robina Courtin, spoke at TGI on Jan 11, 2012.  Ven. Robina gave a magnificent talk on several key aspects of Buddhist philosophy and psychology. The two hour session was professionally recorded. The DVD is now available. Thanks to Ven. Robina for her permission, you can get the DVD by writing to TGI at P.O. Box 94, South Newfane, Vermont 05351.  A tax deductible donation of $10 is requested per DVD. Please remember to enclose your return address and the number of DVD's you would like to have. The DVD's are available regardless of a donation.